Home / Calendar / 3 Rivers Film Festival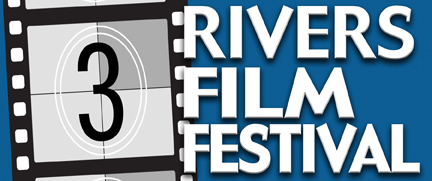 The 3 Rivers Film Festival is a combined effort between Cinema Center and PBS39 to highlight and celebrate the visual arts - specifically local amateur talent working with film and video.
This event is free, with no submission fees and no entrace cost to the screenings. It is an official part of Fort Wayne's Three Rivers Festival.
Thanks to all that submitted and saw the 4th annual 3 Rivers Film Festival!
52 video projects in total were submitted, double what we've seen in past years! We're gratefull to all of those who entered. To keep the Festival within the targeted 90 min total time, 16 films were selected for the public screenings on July 16th and 20th. In no particular order, they are;
Film Title Submitted by:
Kerplunk Jennifer McKibben
Where the River Goes Anthony Frederick
Live It Up Kelly Lynch
Wildlife for Sale Sarah Jones
Unreasonable Doubt Zachary McIntyre
The Stick/The Socks/The Spider Daniel Hart
Travel Refreshed Kelly Lynch
Chances Nichole Root
Rattlesnake Man Gretchen Meinzen
Dealing with Death Justin Sims
Beauty and Betrayal Danielle Wright
Ice Beast Gretchen Meinzen
Henry Williams and the Maneto Egg Joe Griebel
The Bridge Ellen Cornwell
Opun for Business Rigel Jaquish
Slender Jacob Hosler
Some of these films were then broadcast on PBS39 on Sunday July 20th at 7pm.
Keep those creative ideas and short films going! We'll be taking submissions soon for the next 3 Rivers Film Festival, with a deadline in June 2015. Tell your friends, support local creatives and Cinema Center, and we'll see you next year.

Sponsored by 3 Rivers Federal Credit Union.